Columns
Women's MMA
More Controversy in Women's MMA

Sarah D'Alelio handled herself with a lot of class after her controversial loss to "Rowdy" Ronda Rousey during friday nights Strikeforce Challengers series.
Add a comment
Read more...
Fighter Girls
Written by MarQ
Monday, 06 June 2011 12:02
New NAAFS chmapion Ais "The Bash" Daly  
In breaking news, #9 ranked 125 pounder and Ireland's own Aisling Daly has gotten a well deserved win over #10 ranked Jessica Eye at the NAAFS card in Cleveland, OH over the weekend, making her the new champion.
Eye had a solid first round with Daly, exchanging shots early on the clinch, and reversing a takedown to take half guard. Eye was able to land some ground in pound in before Daly got back to her feet just before the bell.
Daly (Top) secures a rear naked choke on Eye (bottom)
In the second round, it was Daly who got the takedown, countering an Eye kick. Eye tried for an armbar, and gained a reverse mount position, trying to get a heel hook. Daly got top position and half guard. Eye tried again for the heel hook, but Daly found the opportunity to take the back and secure the rear naked choke at the 4:00 mark in the second round.
Eye did get some good news that night, however. She has been signed to Bellator, which fuels conjecture that a 125 pound tournament maybe in the fall.
Caplan (bottom) goes for an armbar on Morgan (top)
Also on the card, in amateur action Andria Caplan defeats Amanda Wilcoxen-Morgan by Unanimous Decision (30-27, 30-27, 29-28) in a 160 pound catchweight bout.
In the only other pro match this week, Kelly Warren defeated Sarah Lacina via Arm Triangle in round 2 of the Extreme Challenge: Battle at the Ballpark card in Cedar Rapids, IA.
In amateur action, Evva Johnson defeated Sarah Cook via arm bar at 2:08 to win the AAMMA 135lb female title in Lexington, KY.
Miesha Tate (left) faces Marles Coenen (right) July 30
The long awaited Strikeforce 135 pound title match between Marloes Coenen and Miesha Tate has been set for July 30 in Chicago. Tate had to pull out of her originally scheduled fight with Coenen this past March due to a knee injury. Coenen faced Liz Carmouche in the match and won by triangle choke. Coenen and Tate have been in a war of words since Tate pulled out of the fight, so hype about this match has grown.
Amanda Nunes Out with broken foot
In other Strikeforce news, #3 ranked 145 pounder Amanda Nunes has withdrawn form her scheduled fight with #9 ranked 135er Julie Kedzie at the Strikeforce Dallas card due to a hairline fracture of the foot. It is not know if Kedzie will face a replacement fight, or if the two will square off at a future Strikeforce card.
Roxanne Modafferi (left) and Hitomi Akano (right) 
JEWELS MMA announced that #4 ranked 135 pounder Roxanne Modafferi will be getting her long awaited match with #8 Hitomi Akano at their 15th Ring card July 7. Modafferi was going to face Akano on the DEEP card New Years weekend, but Modafferi feel ill before the fight. This will mark the first time the two friends will face off against each other.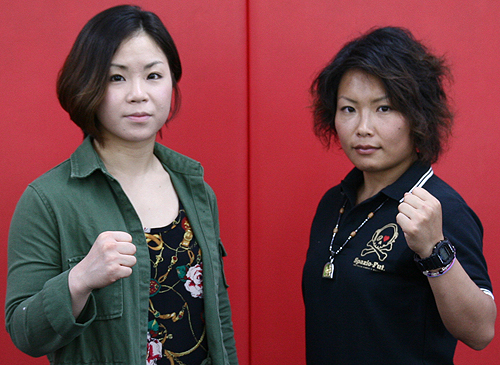 Yamaguchi (left) & Esui (right) at JEWELS 15 Press Conference
Also on the card, #2 ranked 145 pounder Hiroko Yamanaka will face tough Mongolian wrestler Bolormaa "Esui" Erdenebileg, and #3 ranked 115 pounder Mei Yamaguchi faces #9 ranked Seo Hee Ham.
Cyborg Santos wins gold at BJJ World Championships
Over the weekend, the Brazilian Jiu-Jitsu world championships, also know as the Mundials, happen in Long Beach, CA. Several MMA fighters competed in grappling, as well as a lot of grapplers who maybe MMA stars in the coming year.
The talk of the tournament was Strikeforce 145 pound champion Cyborg Santos, who won first place in the Purple Belt Heavy division in dramatic fashion. She was able to secure throws on both of her opponents, getting wins by points.
Other fighters gaining some medals are Jessica Eve Richer winning the Blue Belt heavy division; #4 ranked 125 pounder Cat Zingano taking second in the Purple Belt Light division, and ADCC World champions Hannett Stack (Black Belt Middle) and Luana Alzuguir (Black Belt Light) Both taking first place. 
Complete results can be found at: http://www.ibjjf.org/results/2011mundial.htm
ShoFight MMA announced they will be putting on a card in Branson, MO June 24, and will feature multiple amateur women's bouts, inclduing Women's Lightweight Champ Courtney 'The Krakken' Stowe verses Philadelphia, PA's Andria Caplan in the Main Event.
Also, Andrea "Pitbull" Whitney will face Lylna Thao of Rogers, AR for the Women's Bantamweight Belt.
 Alex Stobbe, Ashley Milton, Sharita Fayne-Davis, Rachel Kidder, and Nicole Lipe are also signed to the card.
Finally, Marisa Caldwell announced she is facing Munah Holland at the Ring of Combat card in Atlantic City, NJ on June 17, which will be streamed live on GoFightLive.tv for $10.
There are no pro matches in women's MMA this week. 
Add a comment
Fighter Girls
Written by MarQ
Monday, 30 May 2011 08:31
Welcome to the Fightergirls column brought to you by your source for women's mma gear and clothing Fightergirls.com. Here is the news for this week.
Sara McMann at the UCC Weigh-ins Courtesy Adenei Photography
Olympic silver medalist Sara McMann only took 40 seconds to submit Christina Marks at the Universial Cage Combat Revolution card in Lawrenceburg, IN. A double leg takedown; ground and pound; and rear naked choke was the formula in McMann winning first pro encounter.

McMann is set next to face Julie Malenfant at a loaded Blackeye Entertainment card in Flethcer, NC June 17.
Damm and Deize face off at weigh-ins
In Brazil, Carina Damm snapped a three fight losing streak by defeating a debuting Maguilla "Gorilla" Deize at the Amazon Fight 8 with a first round key lock.

In the only other pro match this weekend, Jasminka Cive defeated Lilla Vincze via TKO in round two in the "Fight of the Night" card in Germany.

In amateur action, Sarah Goodlaxson continues to impress in the 105 pound division defeating Sam Winkler at the East Peoria Throwdown in Illinois. Goodlaxson would win via read naked choke in the second round. Also on the fight card, Cathy Snell defeated Lisa Wells via first round KO to become the new 115-lb Champion.
Tiffany VanSoest is about to make history. 
She will be facing Sanda practitioner Tang "Don King" Jin in the first ever women's MMA fight in mainland China's history, happening at a mixed kickboxing/MMA event hosted by WBC Muay Thai June 18.

There has been women's MMA fights in Macau, but this will be the first time the mainland will get see a sanctioned women's fight. China's female Sanda/San Shou team has been a dominant force and quite a few of them have made the transition into MMA. This will be Jin's MMA debut. 

Fighting out of the San Diego Sports Academy and an instructor at the Nogueira Brother's Blackhouse MMA, VanSoest is familiar fighting in China. She had a kickboxing match there in early 2010. She is currently training for her fight with Strikeforce fighter Liz Carmouche.
"It is an honor to introduce women's MMA to China," VanSoest stated. "I was beyond stoked to get another MMA fight, let alone in China, but when I found out I am the first American Woman to do so, I was ecstatic. This is a tremendous opportunity and I am extremely grateful. Definitely looking forward to making WMMA and its supporters proud."
Strikeforce president Scott Coker announced this week they have inked a deal with HDNet to televise their preliminary fights at major events, starting with the June 18 card in Dallas. The Dallas prelim card includes #9 ranked 135 pounder Julie Kedzie facing the #3 ranked 145 pound contender Amanda Nunes.
Coker also announced that after the June 24 Strikeforce card in Washington, the Challengers series will make the Pearl at the Palms in Las Vegas their permanant home. The first Vegas Challengers event will be July 22, and it's not known of a women's fight will be booked on that card.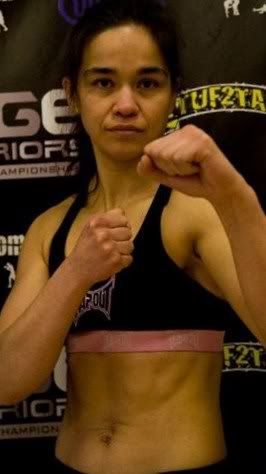 Sexton (left) and Gaff (right) face off for the title July 9
The #3 ranked 125 pounder and Cage Warrior's star Rosi Sexton will face the #6 ranked Sheila Gaff for the company's first ever women's title July 9th, according to an article on MMARising.com. This match is signed, but Sexton is waiting on Bellator MMA's approval.

Both fighters are coming off wins in the UK based organization, as Sexton defeated Roxanne Modafferi this past February, and Gaff defeated Ais "The Bash" Daly in April. The fight will be aired on The Fight Network Canada and will be streamed online for US audiences.
Jessica Eye (left) and Ais "The Bash" Daly Square off in Cleveland
Speaking of Daly, she will face the #10 ranked 125 pounder Jessica Eye at the NAAFS: Fight Nite in the Flats VII in Cleveland, OH. Eye is 8-0 in her pro career, but will face her toughest opponent yet with Daly, who is hungry to get back on the winning track. The fight will be streamed on NAAFS.tv for $10.
In other pro matches this week:
Kelly Warren faces Sarah Lacina at Extreme Challenge: Battle at the Ballpark in Cedar Rapids, IA
and
Kyane Hampton faces Jessica Doerner at FCP: Bakken Battle 2 in Minoit, ND
A reminder that the G2 Women's MMA Summit is coming to Vegas July 1-3. The event will feature fights, grappling tournaments, seminars, and networking events to help up and coming female fighters in the sport. All nine seminars are $120, which is a huge bargain. More information on the seminars, sponsorship for the event, and accommodations can be found at http://www.G2Fight.com. 
That is all for now. Please check out Fightergirls for all your women's mma news and interviews. Plus follow us on twitter @fightergirls with the most up to the minute breaking news stories in women's mma.
Also check out the Fightergirls store of all your mma gear and clothing. We also carry Everlast and Cleto Reyes boxing and mma gear.
Until next week.
Add a comment
Fighter Girls
Written by MarQ
Friday, 27 May 2011 09:57
GFight has been a leader in women's MMA, hosting an annual conference of some of the best female fighters on the planet to help support the next generation. This year, the event heads to Vegas.
Tuff-n-uff MMA has teamed up with GFight to host the G2 Women's MMA Summit July 1-3. The Summit will be three days of seminars, networking, and competitions; all to help the amateur and beginning pro fighters improve their game and develop their careers.
Nine seminars will be offered, with all disciplines represented. Bellator fighter Carla Esparza will be holding a wrestling clinic; Supremacy MMA's Michele Gutierrez will be holding a boxing seminar; and Brazilian jiu-jitsu world champion Lana Stefanac will be holding a grappling class; with six other seminars yet to be announced.
Friday night will feature six women's fights at the Tuff-n-uff event at the Cox Pavilion on the UNLV campus. Saturday will have a viewing party for UFC 132. Several clothing companies, promoters, press, and managers will be in attendance all weekend to help you to promote, find fights, and mingle with sponsors.
The cost of all nine seminars are $120 in advance and $125 at the door, which is a true bargain. We also have a great hotel deal at the Ramada for $55 per night total.
To sign up for the seminars and get the hotel deal - you can go to G2Fight.com.
Add a comment
Fighter Girls
Written by MarQ
Monday, 23 May 2011 13:51
Welcome to the Fightergirls column brought to you by your source for women's mma gear and clothing Fightergirls.com. Here is the news for this week.
Colleen Schneider Racks up a Quick Win
Colleen Schneider has been a pro since last August, dropping her first two fights, but it took only 17 seconds to rack up her first pro win.
Schneider fought a debuting Amber Mann at the Gladiator Challenge: Warpath in Placerville, CA. All it took was a right cross to take down Mann, who dropped as Schneider tried to follow up. The referee declared it a TKO officially, and Schneider improves to 1-2.
Marianna Kheyfets remains undefeated in the pro ranks, defeating the debuting Kaline Medeiros via Triangle Choke at 1:14 of round 3 at Reality Fighting MMA at the Mohegan Sun in Connecticut. Kheyfets was the hometown favorite coming in, and didn't disappoint. Kheyfets is now 3-0 and is expected to be fighting next for the XFC in July in St. Petersburg, FL.


After her win over Erin Toughill, Ashley Sanchez defeated Adrienne Seiber via Unanimous Decision at Cut Throat MMA: Supremacy 3 in Hammond, IN. Sanchez is dropping to 145 pounds, and used this 150 match as a gradual step down. Sanchez improves to 4-2.
In Denver, Rocky Mountain Bad Boyz hosted two women's fights, including a pro match between Angela Hayes and T.J. Cunanan. Hayes would get the unanimous decision, racking her third win in a row. 

In amateur action, 125 ponder Ashley Villasana defeated Sherrie Pasko via TKO at 38 second or round 2.
In the only other pro match this past week, Risalat Mingbatyrova defeated Elena Rassokhina by Unanimous Decision at the Pro-Union Nation Cup 15 in Russia. 
Julie Kedzie (left) verses Amanda Nunes (right) scheduled for June 18
One of the top veterans in the sport is about to debut in Strikeforce.

The #9 ranked 135 pounder Julie Kedzie (16-8) faces the #3 ranked 145 pound contender Amanda Nunes in a 135 pound contest at Strikeforce Dallas June 18.

Kedzie is a seven year veteran of the sport, training out of Jackson-Winkeljohn in Albuquerque, NM. Gina Carano, who is gearing up for her fight with Sarah D'Alelio on the June 18 main card, is also training at Jackson's. Kedzie is on a four fight winning streak, with one of her wins against D'Alelio.
Nunes (6-1) is coming off a 14 second knockout this past June over Julia Budd. Nunes has yet to see defeat since her debut loss.

The fight will take place on the undercard. No word on if it will be streamed online.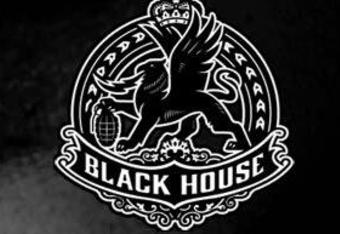 This past week, Zingano BJJ announced that it will be an afflaite of Black House MMA. Black House is the home team of many UFC fighters such as champions Anderson Silva and Jose Aldo; as well as past champions Lyoto Machida and Antônio Rodrigo Nogueira. 
What is important about the afflaition is that this will be the first time women will be represented under the Black House banner; the most prominant being #4 ranked 125 pounder Cat Zingano.
The Black Eye Promotions card in North Caralina has schedule six women's bouts for their show June 17. These bouts include:
Colleen Schneider verses Vanessa Mariscal
Kat Alendal verses Ediene Gomes
Avery Vilche versus Kelly Warren
Angelica Brotherton versus Maryellen Cano
..and what will be the two featured contests, Olympic silver medalist Sara McMann will face Julie Malenfant and Amanda Lucas will hopefully make her long awaited return to the cage.  
Sara McMann makes her debut Sat.
Speaking of McMann, she will be making her pro debut this Saturday against Christina Marks at the UCC: Revolution card in Lawrenceburg, IN near Louisville. McMann has had trouble finding opponents due to her wrestling pedagree and her 3-0 amateur record. A rumored 16 opponents turned down a match with her, with a few experienced one not allowed by state athletic commisions to face the new-comer in McMann. The bout will be streamed on Go Fight Live for $10.
In other action this weekend:
Carina Damm faces Deize Gorilla at Amazon Fight 8 in Brazil
and 
Jasminka Cive faces Lilla Vincze at Fight of the Night MMA in Germany 
To help support efforts in wake of March's Japanese Tsunami, Fightergirls has a special limited edition t-shirt with procedes going to the Japanese diaster victims. The shirt is available in men's and women's sizes, and can be purchased here.
That is all for now. Please check out Fightergirls for all your women's mma news and interviews. Plus follow us on twitter @fightergirls with the most up to the minute breaking news stories in women's mma.
Also check out the Fightergirls store of all your mma gear and clothing. We also carry Everlast and Cleto Reyes boxing and mma gear.
Until next week.
Add a comment
<<

Start

<

Prev

1

2 3 4 5 Next > End >>


Page 1 of 5